TOODALOO PEST AND WILDLIFE
For the most part, this industry is dominated by large-scale businesses that lack a personal touch, and customers fall into that "feeling like a number" scenario.
Entering the homes of our clients exhibits a great deal of trust, not only in our team but in our brand as well. Our franchise offices are locally owned, and our Toodaloo technicians are local to the areas. This type of practice implements a feeling of community, security with a "neighbours helping neighbours", this is what sets us apart.
New pests are prepared to rear their heads at any available opportunity, particularly during seasonal changes. In order to keep our leg up on our competitors, our technicians must be prepared to accommodate any requests as they come. Toodaloo takes the premise of customer service to new heights. So, why Toodaloo?
Our Branding
More than simply doing a good job, our Toodaloo technicians look good doing it as well. Toodaloo marketing goes above and beyond the conventional visual representations of pest control. Our particular brand of pest and wildlife services include a show as well, with flashy uniforms, eye-catching vehicles and top of the line results. Putting this new twist on an industry that has minimal Franchise Structure within Canada is why Toodaloo supersedes the competition.
Toodaloo Support Centre
Franchisees have a unique opportunity to share daily operations with our Toodaloo support centre. With the tasks of daily dispatch and phone reception, franchise partners are able to focus on their own daily operations and tasks. Customer interactions can be divided among the call centre and in person with franchisees and their own Toodaloo staff. With smaller issues such as estimates or service outlines, technicians have the opportunity to provide face to face services for clients. Toodaloo Franchise Partners work in the field on the Toodaloo App, allowing them to run the entire business from their tablet or even their phone. From estimates, Work Orders, Daily Scheduling, it's all at the tips of their fingers, making the business virtually paperless!
Training and Support
"I Have Never Been In The Pest Control Industry Before!"
Awesome! We love new blood! Seriously, it does not matter if you have 20 years of experience or 20 minutes of experience, after the 2 week training schedule at Toodaloo Headquarters, you will be ready to roll!
Continued support and training is one of the greatest assets that comes along with a franchise partnership. Toodaloo Pest Control believes that we are only as strong as our weakest link and that is why our training and coaching methods are always ongoing.
The Toodaloo Call Centre (1-844-TOODALOO) is available not only for clients but for our team members as well. Franchisees are encouraged to phone in with any questions or concerns that may arise in the field. Learning is never finished and, with Toodaloo, neither is our teaching.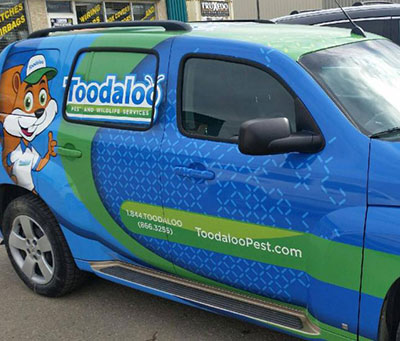 Our Clientele
The pest control business is a constant and necessary service and because of its value, pest control services are a dime a dozen within the industry. Toodaloo simply BREAKS AWAY from the competition by providing expert customer service, a trustworthy name and image and all around professional result.
It is difficult for any property owner to place the care and condition of their home into the hands of a stranger. The goal of all of our Toodaloo technicians is to earn the trust of our clients, creating positive relationships and, customer loyalty. Toodaloo pest services provides expert service quality while maintaining the highest standards of customer service.