Overview
n April, 1993 "The Great Canadian Bagel, Ltd." commenced operations with an initial store in Metropolitan Toronto. Featuring 24 varieties of fresh baked bagels, 21 flavours of cream cheese spreads and a selection of soups, salads, and made-to-order sandwiches, the store was an immediate success.
In October, 1993 a second Toronto The Great Canadian Bagel store was opened. Franchising began in early 1994 and by year-end there were a total of three corporate and five franchised The Great Canadian Bagel stores in operation. Steady expansion continued through 1995, 1996, and 1997 with additional stores opening from coast to coast across Canada.
As of November 2006 there were 48 The Great Canadian Bagel locations in Canada.
Products & Services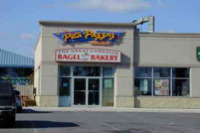 At The Great Canadian Bagel all bagels are baked fresh from recipes calling for only the finest natural ingredients with no preservatives. The majority of stores are equipped with an on-premise bakery enabling customers to watch the bagels being made and smell the aroma as they are taken from the oven. This combination of high quality product, attractive store atmosphere and our constant focus on providing the highest level of customer service all work together to set The Great Canadian Bagel a notch above the competition in the fast growing Bagel segment of the Foodservice market.
Training & Support
The Great Canadian Bagel will provide an extensive training program covering all aspects of store operations, including baking procedures, operating policies, equipment maintenance, selling and merchandising, management control, etc. This program is currently three weeks in duration and held at our Mississauga office and designated training stores. The program is mandatory for Franchisees. Training is also made available for any key employees. For new stores, training is included as part of the initial Franchise Fee. There is no additional cost for training of Franchisees or their staff. In resale situations a training fee is charged to the incoming Franchisee in lieu of an initial Franchise Fee. Franchisees are responsible for any travel and accommodation costs incurred during training.
In addition, The Great Canadian Bagel will provide on-site pre-opening assistance and training to the Franchisee and their staff, and will continue to provide on-site training and assistance throughout the initial week of operation.
Are You a Good Fit for Great Canadian Bagel, The?
Franchisees of The Great Canadian Bagel can operate either "Full Production" or "Non-Production" stores. While we no longer construct new full production stores. They are available via purchasing one from our current franchise base.
A Non-Production store typically involves a total development cost ranging between $85,000 and $175,000. A large portion of the cost may be financed, though we recommend cash equity of at least 50%.
The "turnkey" cost includes store design, permits, equipment, leasehold improvements, signage, smallwares, construction, administration charges, and a start-up inventory of uniforms and merchandise display items. All of the equipment is typically owned by the Franchisee with the exception of a few items on loan from suppliers, and the dishwasher which is on a lease/service contract.
Franchisees will usually be required to supply a rental deposit to the landlord as well as utility security deposits. Since most suppliers provide payment terms, additional start-up capital requirements are usually minimal.

"Non-Production" stores lack the equipment needed to prepare the bagel dough (usually due to space restrictions) and instead purchase their bagels "par-baked" from our supplier. These bagels are made using the same recipe and high-quality ingredients used in our Full-Production stores, and are virtually identical to bagels made from scratch on-site.