ONE OF THE HIGHEST RANKED FRANCHISES IN AMERICA WANTS YOU TO CONTROL YOUR OWN DESTINY
This is a unique opportunity to own one of the highest ranked franchises in the US. The Barre Code is ranked #195 in Entrepreneur Magazine's 2021 Franchise 500!
In 2010, in the throes of an economic downturn, The Barre Code Co-founders and Co-CEOs Jillian Lorenz and Ariana Chernin turned a New Year's Eve resolution into a lifelong mission to create and grow a best-in-class fitness program for everybody and every BODY.
The Barre Code is multiple fitness franchises combined into one. We have the most efficient and results-driven fitness program centered around cardio, strength, and restoration. In addition to our three core formats of Barre, Bootcamp, and Brawl™ (cardio-kickboxing), we also offer HIIT classes, BarRestore classes (yoga) and more.
WE ARE UNIQUE
We promote personal growth and self-acceptance in an environment where women support one another.
Since The Barre Code's inception, we've defied the fitness industry by encouraging members to focus on what they can gain (sustained confidence, strength, flexibility, community, mental and physical health) versus what they can lose (inches and pounds).
As a result, we have nearly 40 franchise locations across the US, and counting, and over 200,000 loyal members.
ONE OF THE STRONGEST TEAMS IN FRANCHISING
In 2020, in the middle of another historic economic event, The Barre Code founders partnered with Franworth in their milestone 10th year in business to gain the expertise of an experienced team with resources to accelerate value for their brand and franchise locations, fueling The Barre Code's efforts to expand its footprint across the U.S.
The Franworth team has approximately 450 years of combined franchise experience, which directly benefits The Barre Code franchisees.
The Barre Code franchisees enjoy the following differentiators:
Four fitness franchises in one (barre, bootcamp, kickboxing and yoga)
Ability to hire a manager to run the studio
Membership model with recurring revenue
High ROI opportunity
Market availability throughout most of the country
Small studio footprint with lower labor costs
Limited, flexible time commitment
Opportunity to open multiple units
THE WORKOUT
BARRE
Pulse and shake in our signature class that combines barre work and isometric movements with constantly changing routines, a variety of props, and high-energy playlists.
BOOTCAMP
Lift and sweat in our Bootcamp class that improves cardiovascular conditioning & functional strength with heavy weights, HIIT, and bumping beats.
BRAWL
Kick, punch, and sweat your way through this high-energy class that incorporates cardio kickboxing sequencing and strength work.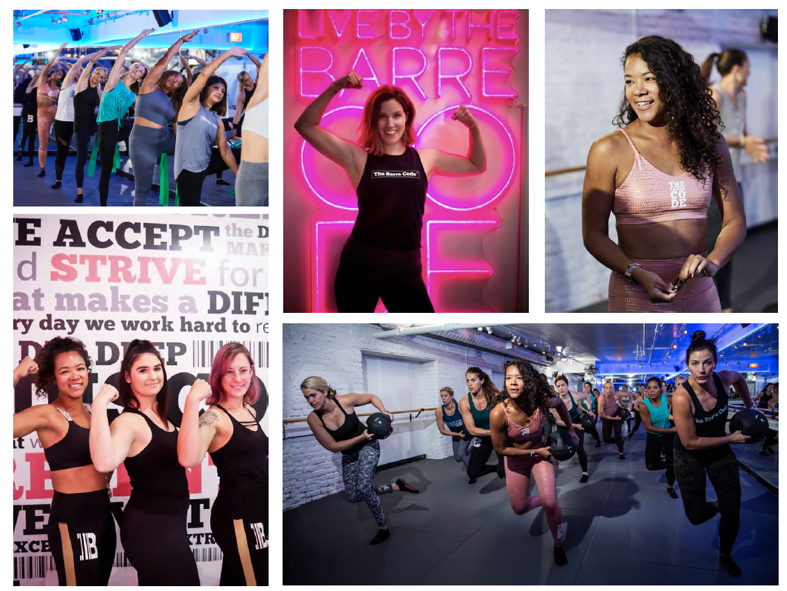 FEATURES AND BENEFITS
Ability to create financial independence
Single units or multiple units for qualified prospects
Site selection and build-out assistance from vendor partners
Marketing and operational support
Ability to earn revenue through membership, retail, online sales and on-demand sales
Unique product combining multiple fitness franchises into one
Ability to be an owner-operator or an executive owner (managing a manager)
Continuing education and support