The Perks of Eenie Meenie Miny Mow! Services
Maintaining great outdoor appeal gives property owners satisfaction and can raise property values. Our clients can rest assured that they will get the best results for their residential or commercial space from our talented franchisees. With the help of our training program and our complete support centre, you will be able to provide your clients with an assessment, information and expert results.
Eenie Meenie Miny Mow Landscaping offers a complete support system for all our franchise partners so that they can build and succeed as a team.
What sets Eenie Meenie Miny Mow! apart
The landscaping industry never stops, and we are there to answer the call. In an industry dominated by small-scale businesses that just can't provide that professional touch and makes clients "feel like a number", we're different.
Our clients put a great deal of trust in our team and in our brand by allowing us to take care of their homes. Our locally owned franchise offices and local technicians support a feeling of community and security. The "neighbours helping neighbours" feeling is what sets us apart.
Our Branding
We put a fresh look on an industry that has had minimal Franchise Structure within Canada. Our new twist on presentation gets our franchisees noticed and surpasses the competition.
Can't-be-missed marketing that goes above and beyond the competition.
Flashy uniforms
Eye-catching vehicles that everyone in your community will recognize.
Check out our consumer marketing on Youtube!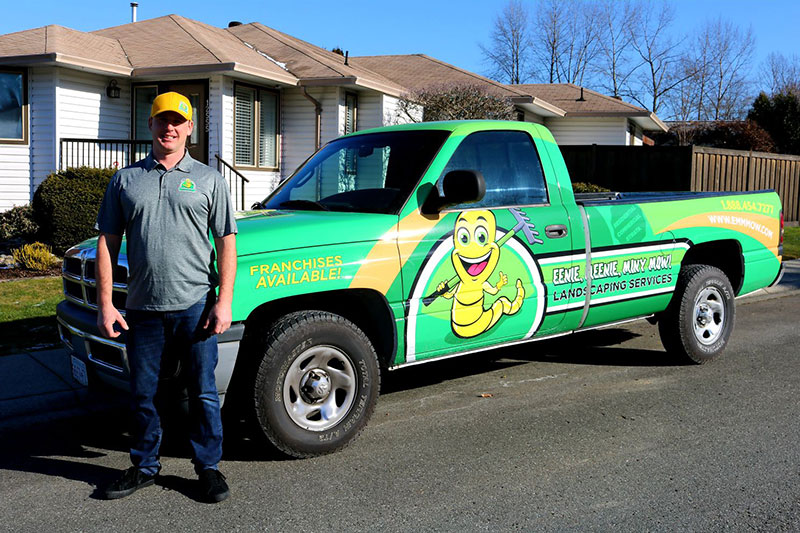 Support Centre
Our belief is to reverse engineer our services/customer service support from our customer's needs. That is why we have our EMMMOW support centre. Without the worry of daily dispatch and phone reception, franchise partners are free to focus on their own operations and tasks.
Customer interactions start with our professional call centre team to pre-qualify your customer before introducing them to our franchisees and your EMMMOW staff.
EMMMOW Franchise Partners in the field work on the EMMMOW App, where they can run the entire business from their tablet or even their phone. Estimates, Work Orders, Daily Scheduling, it's all at the tip of their fingers, making the business virtually paperless!
Training and Support
"I Have Never Been in Landscaping Before!"
Awesome! All we need is your enthusiasm and customer service attributes…we can train you from there! Seriously, it does not matter if you have 20 years of experience or 20 minutes of experience, after your training at EMMMOW Headquarters, you will be ready to roll!
Continued support and training is all part of being with EMMMOW and we want to ensure that from day one we are aligned with the franchise partnership
The EMMMOW Call Centre is available for both clients and our team members as well. Franchisees are encouraged to phone us with any questions or concerns that arise in the field.
Learning is never finished and, with Toodaloo, neither is our teaching.
Be Part of the Team
BREAK AWAY from the competition by offering expert customer service, a trustworthy and recognized name a great image and a professional result from start to finish.
Now you can be part of this exciting opportunity, enjoying the support of an exceptional team, and a great brand. Be the landscaping name that your community trusts!
Benefits in a Nutshell
Start up costs less than $30,000
Low overheads (no royalty…low monthly fixed admin fee)
No territory restrictions
high demand services and great profit margins
run the business from your home-based office
ongoing training in all aspects of the business by our experienced franchise support team
run your business mobile, all done on a tablet or even your phone (no extra cost for technology)
fun, and recognizable branding
call centre to handle all your incoming leads (no extra cost for call centre)
great culture and fun atmosphere to work in
flexible hours, you are the boss!