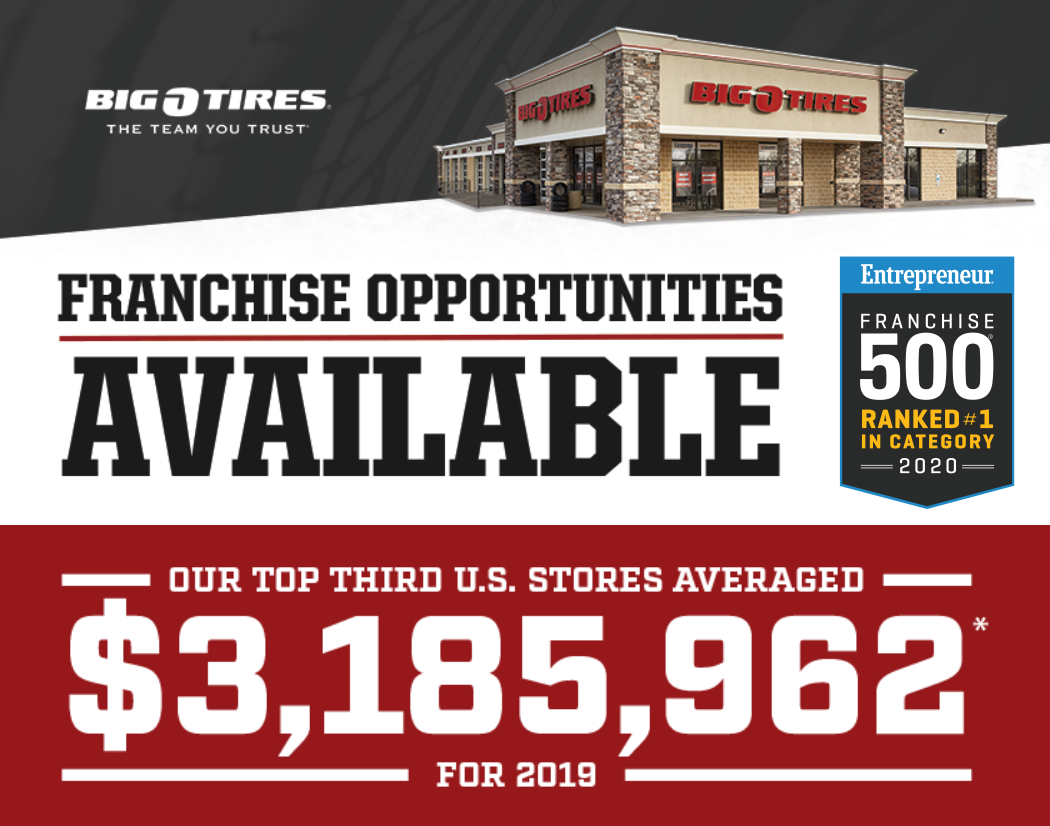 Overview
Big O Tires® started from humble beginnings – created by a group of progressive independent tire dealers who worked together to meet the demands of an exploding automotive services market. Our foundation has given us insight into the strategy and resources necessary to stay ahead of an ever-changing vehicle population and build long-term success for our brand.
Whether you want to open a new store, convert your existing store, or explore the possibility of taking ownership of an existing store, Big O Tires® offers many opportunities to help make your dream a reality.
Why Choose Us?
As a Big O Tires® franchisee, you are aligned with a well-recognized and respected brand name that customers know and trust. It's no wonder that people count on Big O Tires®. In 2019, the top third U.S. stores average revenue was $3,198,962.
We've worked hard and earned our reputation by delivering superior products and services for more than half a century. Customers know us for our huge selection of premium brand-name and private label tires, our great prices, excellent maintenance services and some of the best warranties in the business. Franchisees leverage a network of more than 450 locations to help drive success.
Ideal Candidate
Big O Tires® is proud to be one of the most progressive tire and automotive service franchises in the nation. When you join our family, we supply you with a powerful set of tools to help bring your business to the front of the pack.
History
History – a 58-year heritage, award-winning reputation, known as The Team You Trust
Incentive Programs
Incentive Programs are now being offered for franchisees who open a new Shop or re-open a company-owned location. Visit our website for more details.
U.S. Veteran Discounts include waiving initial $35,000 franchise fee.
First Responder Discounts include waiving initial $35,000 franchise fee.
Training And Support
Purchasing power
Shared services
Business systems, including a comprehensive point of sale system
Exclusive Big O branded tires and automotive accessories
Warranties – tires and service
Roadside assistance
Dynamic online business center
State-of-the-art, high-traffic consumer website
Award-winning multi-channel marketing
Brand standards and specifications
National tire distribution network
Exceptional fleet program opportunities
Our team will be with you through every mile of your Big O franchise journey. Here is just some of the support you can count on as a Big O Tires® franchisee:
Site selection
Site development
Training
Store merchandising
Inventory management
Recommended retail pricing/model stock program
Five-step VIP Service approach to customer retention
A franchise business consultant
Credit card program
Market intelligence
IT – computers, software, email