Partner With an Industry Leader
A Berkshire Hathaway company
Owning a Benjamin Moore paint store provides the freedom of independent ownership, while backed by a comprehensive retail support system provided by the entire Benjamin Moore team.
Why Partner with Benjamin Moore?
Your success is our number one priority. With over a century at the forefront of product innovation and color leadership, our reputation in the industry is unparalleled. When you join our network of more than 5,000 independently owned stores, you become part of a community of passionate entrepreneurs who are excited about the future.
Our unique proposition? We help grow your business with the power of a great brand, without the constraints and costs of a franchise.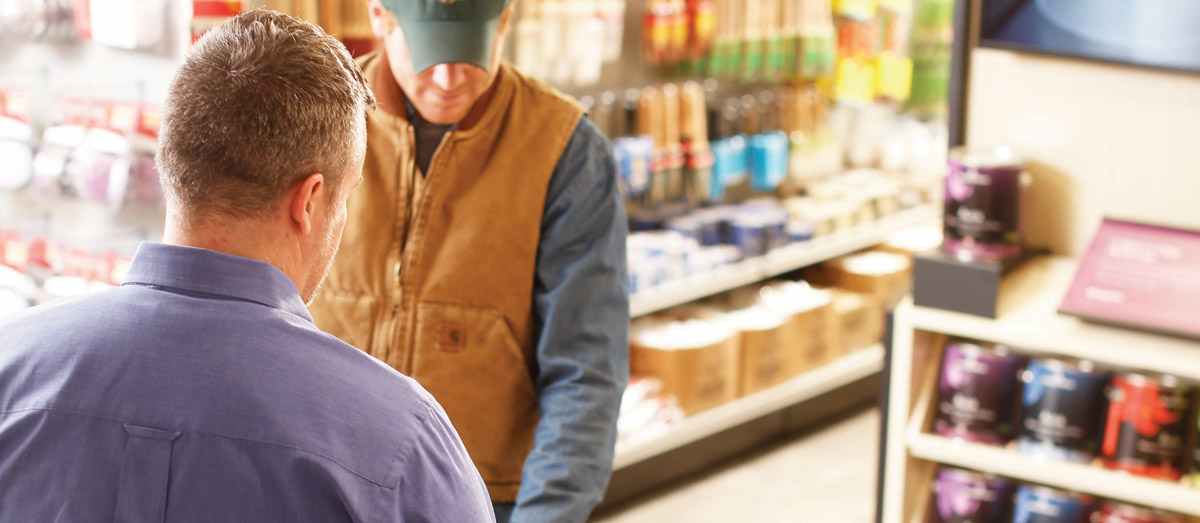 Success
The success of our dealers is our number one priority, you get our strategies; national advertising; marketing; education; and support that goes way beyond our premium product. All the while knowing that Benjamin Moore stands ready to help you succeed. No constraints. No fees. No royalties.
Our most successful dealers are hardworking, dedicated individuals with a passion for color, community and customer service. We are looking for people who are self-starters with ambition to own, grow and innovate their business.Individuals who are continuous learners and are able to put in the hard work it takes to make their business thrive.
Our Vision
We remain committed to the vision of our founder, Benjamin Moore, when he started his paint company in 1883: produce the highest-quality paints and finishes in the industry, and deliver them directly to our customers through our nationwide network of knowledgeable, customer-friendly, independent retail locations.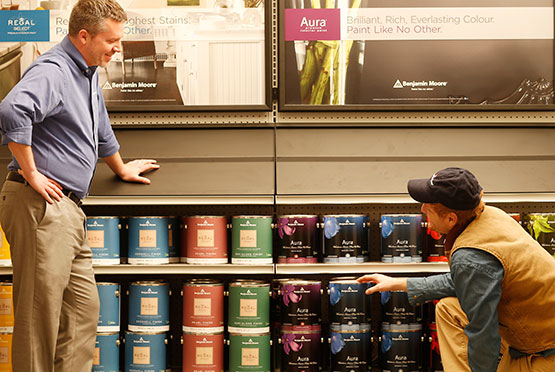 Everything and Moore
Benjamin Moore is only available at independently owned paint and hardware stores. It is an unparalleled retail experience whether you need interior or exterior, premium or commercial-grade paint or stain. Benjamin Moore paint stores are ready to serve you.
Do You Have What It Takes?
We are looking for continuous learners who are interested in working together in the long-term. Individuals who are self-starters, with ambition to own, grow and innovate their business. They are able to put in the work it takes to make their business thrive.
Additionally, our ideal candidates would have the following:
Minimum capital investment of $60,000 USD (unencumbered capital)
Retail, general business or related industry experience
Strong credit history
Located within the available market or willing to relocate
College degree or equivalent business experience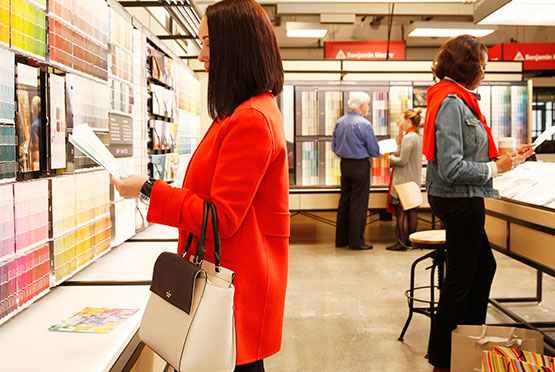 "When you run a business, you end up getting involved in many tasks. I like the fact that the interactions that happen in my store rest on my shoulders. Benjamin Moore provides great products that have impact. Most people don't just walk into a paint store and utter the word 'wow.' We have a unique partnership going and are proud to be part of our local community. We are the people's paint store." – Craig Bond, Tommys Paint Pot, Eugene, OR
"It's rewarding to own a business, and a constant learning process. Paint technology is evolving and Benjamin Moore is leading that change. We're excited to sell these high-performing and eco-friendly products. In a marketplace with an increasing number of big-box stores, running a small business is a strength. You get to know your products in and out, and your knowledge and expertise help customers develop 100% faith in you. That's a true mark of success." – Colleen Curry, Painters Express Inc., Middletown NJ
"I have been running my own business for 25 years. I started with one store in Woodhaven, NY, and now own four Benjamin Moore stores. I'm very proud to be a Benjamin Moore dealer and to have them as a partner. The brand lives up to its name. Years later, I am still selling premium paint that produces sophisticated looks every single time. That is why my customers keep coming back. I put my heart into my business to serve the community. You work very hard, but it's the best kind of work." – Jean Park, Colorall Paints & Blinds, Fort Lee, NJ